I received this (slightly edited) mail from Valerie and feel that so many would benefit from their amazing resources. Thanks again Valerie for sharing your wonderful resources!

I have a small but important set of printables to share with you today! I just whipped up some colorful notebooking pages on the Pledge of Allegiance, including a classroom chart that features the pledge in a cross shape.

Also, be sure you check out our sponsors this month! Learn Our History is offering a FREE DVD called, "One Nation Under God" when you join! Check out the details below…

Blessings,

Valerie McClintick

valerie@lapbooklessons.com

This Free DVD teaches your kids about God's love for America

Show your children the story of God's great role in American History with Learn Our History's latest DVD, One Nation Under God. You can get this very special DVD absolutely FREE when you try Learn Our History (just cover a small s&h charge). But hurry…supplies of this exceptional FREE DVD are limited to the earliest responders. Just click here for full details of this exciting offer.

Printable Pledge of Allegiance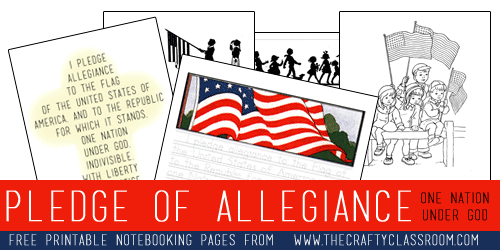 This is a small set of printables to help you teach your children the pledge of allegiance. Younger children can color in the the coloring pages, while older children can use the notebooking pages as copywork. This set includes a printable chart with the pledge in a shape of a cross. This is a great starter set to begin teaching your little ones that we are a nation under God. Click Here to Print This Set!
Visit Lapbook Lessons at: http://lapbooklessons.ning.com/